NO-DAIRY GARLIC ALFREDO SAUCE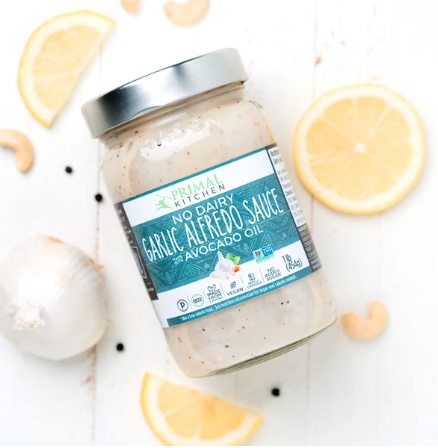 Q: I have an allergy, are the sauces manufactured in a facility that contains dairy, eggs, or nuts?
A: Our sauces and dressings are manufactured in a shared facility and on a shared line with other products that contain most the 8 major allergens. They do clean equipment and do allergen testing between runs. If anything is detected then it is cleaned down again.
Q: Why do you use Citric Acid in the sauces and where is it sourced from?
A: It is used to lower the acidity of the sauces to help with stability on the shelf and once opened in the refrigerator. It comes from a Non-GMO and organic compliant food source, which is proprietary at this time.
Q: What is the shelf life of your No-Dairy Alfredo Sauce?
A: Each bottle has a best by date printed on it. Please refrigerate after opening and use within 5 days for best quality.
Q: Why isn't your Garlic Alfredo Sauce labeled as Whole30 compliant?
A: Primal Kitchen Alfredo sauces are compliant but fall under the 'use your own judgment' category. According to the Whole30 Official "Can I Have" Guide:
"Technically, almond "ricotta" or cashew "cheese" dips and dairy free alfredo sauces are allowed on the program, as long as their ingredients are compliant. But as with nut butters, USE YOUR BEST JUDGMENT. If you have an unhealthy emotional relationship with cheese, use cheese as a comfort food, or find cheese is a trigger food for other cravings (like wine or crackers), it's absolutely for the best that you leave these recreations out of your Whole30. It's only 30 days."
---
---