Ketchup
 Organic Unsweetened Ketchup & Spicy Organic Unsweetened Ketchup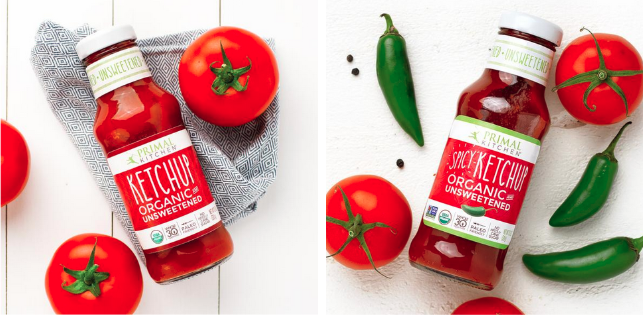 Possible Winter and Holiday Shipping Delays
 Please understand that you may experience shipping delays during the winter months due to weather conditions and/or an increase in order volume, due to the holiday season. 
Please contact us via email at info@primalblueprint.com 
or call
(888)774-6259 Ext. 4110
and a customer service rep will be happy to help check on the status of your order.   
Q: What makes Primal Kitchen Ketchup so Awesome?
A: Primal Kitchen Organic Unsweetened Ketchup is infused with nourishing, USDA organic ingredients and packed with the wholesome, all-American taste this iconic condiment is famous for!
Q: Does your Ketchup contain sugar?
A: No, we do not add sugar, not even dates, or honey!
Q: What is the Balsamic vinegar derived from?
A: The balsamic vinegar is Italian and made from grapes, with no added sulfites.
Q: Does the salt have any additional ingredients added to it?
A: No, it is just evaporated salt with no dextrose or YPS anti-caking agents.
Q: I have an allergy, are the dressings manufactured in a facility that contains dairy, eggs, or nuts?
A: The ketchup is manufactured in a shared facility and on a shared line with dairy. They have an allergy program in place, and this ensures that the ketchup product itself can be declared free of any allergens.
Q: What is the shelf life of Primal Kitchen Ketchup
A: 18 months unopened. Once opened, keep refrigerated and use within about 6-8 months.
---
---