Thousand Island Dressing & Marinade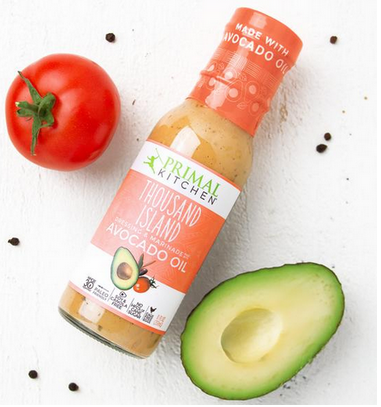 Q: Manufacturing Allergen Info?
A: Yes, our dressings are manufactured in a shared facility and on a shared line with other products that contain most the 8 major allergens, however, our products are on a set schedule and are run in order from Vinaigrette to Creamy dressings. They do clean equipment and do allergen testing in-between runs. If anything is detected then it is cleaned down again.
Q: Are the Organic eggs cage free? And fed a vegetarian diet?
A: Yes, they are sourced from 100% cage-free farms. They are fed a non-GMO vegetarian diet (corn & soy).
Q: Are the Eggs Pasteurized?
A: Yes our eggs are pasteurized.
Q: Why do you add rosemary extract to some of your products?
A: Rosemary extract is an antioxidant that helps prevent fats from oxidizing in our products.
Q: How do you ensure that your avocado oil is pure?
A: We have supplier standards that must be met, including ingredient authenticity, an array of testing, and third-party supplier audits. Suppliers must meet FDA standards for pure, safe food that is not adulterated. We are also mindful of the country of origin when sourcing ingredients as well. Ingredients such as our avocado oil are tested regularly for identity authenticity.
---
---