DREAMY ITALIAN DRESSING & MARINADE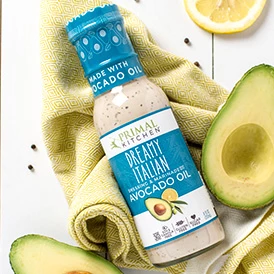 Q: I have an allergy, are the dressings manufactured in a facility that contains dairy, eggs, or nuts?
A: Yes, our dressings are manufactured in a shared facility and on a shared line with other products that contain the 8 major allergens. They have an allergen control program and specific cleaning protocols to avoid allergen residues.
Q: Your dressing says it's Dairy-Free, but it contains eggs!
A: Despite being sold in the same aisle at your local grocery store, eggs are Not dairy or a milk based product. Eggs come from poultry, which is not a milk producing animal.
Q: Are the Eggs Pasteurized?
A: Yes the eggs are pasteurized and they are cage-free as well!
Q: What is the shelf life of your Dreamy Italian Dressing?
A: Our dressings have a best by date printed on the bottle. Please refrigerate after opening and use within 60 days for best quality
---
---