ORGANIC SPICY BROWN MUSTARD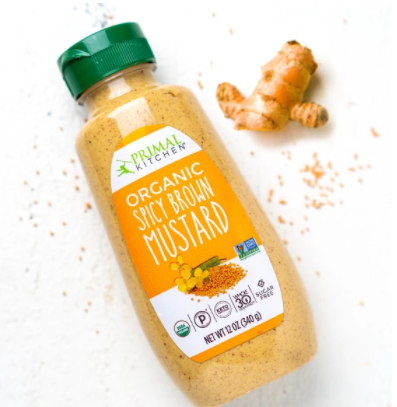 Q: What is the organic vinegar derived from?
A: The vinegar is derived from grain-free sources.
Q: I have an allergy, are the dressings manufactured in a facility that contains dairy, eggs, or nuts?
A: The mustard is not manufactured in a shared facility or on a shared line with any other products/ allergens.
Q: Is the bottle BPA Free?
A: The bottle is PET plastic. Food and beverage containers made from the polyester plastic known as PET do not contain Bisphenol-A (BPA).
Q: What is the shelf life of Primal Kitchen Organic Spicy Brown Mustard?
A: The mustard is stamped with a Best By date. Store refrigerated after opening.
Q: Do you have a money back guarantee?
A: Yes! We offer a 30-day money back guarantee. If you aren't completely satisfied with the product, simply return it and we'll refund you.
---
---