ALMOND SPICE PROTEIN BAR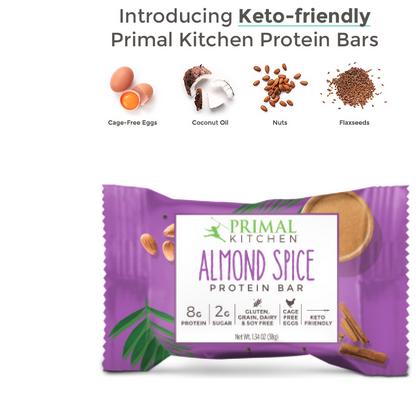 Ingredients: Almonds, Coconut Oil, Prebiotic Tapioca Fiber, Eggs, Egg Whites, Flaxseed, Honey, Water, Cinnamon, Sunflower Lecithin, Sea Salt, Allspice, Ginger, Nutmeg, Monk Fruit Extract, Rosemary Extract. Contains Peanuts, Eggs, Tree Nuts (Almond, Coconut)

Primal Kitchen Almond Spice Protein Bars are sweetly spiced and satiating, loaded with healthy fats and clean protein from cage-free eggs, coconut oil, nuts, and flaxseed. These paleo and keto-friendly bars contain 2 grams of sugar and 10 grams of total carbs, with an unbeatable warm blend of cinnamon and ginger that will spice up your snack sessions.
Q: Is the honey pasteurized?
A: Yes, it is pasteurized.
Q: What is optimal temperature for these bars?
A: 50 - 75 degrees, product should be stored between 60 - 75 degrees.
Q: Are the almonds in this formula skinless?
A: No, they are not.
Q: Is the monk fruit water extracted?
Yes, it is water extracted.
---
---