Pink Primavera Sauce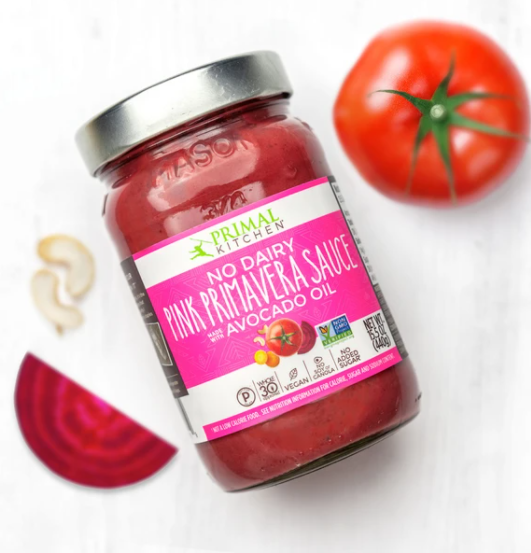 If for any reason you are not completely satisfied with any of our products or have a less than satisfactory experience, please contact our customer service specialists within 30 days of the receipt of your order.
I have an allergy, are the sauces manufactured in a facility that contains dairy, eggs, or nuts?
Our sauces and dressings are manufactured in a shared facility and on a shared line with other products that contain most the 8 major allergens. They do clean equipment and do allergen testing between runs. If anything is detected then it is cleaned down again.
How long does my Primal Kitchen Pasta Sauce last?
Each bottle has a best by date printed on it. Please refrigerate after opening and use within 5 days for best quality.
Why are there apples in the Pink Primavera?
Apples add both sweetness and texture, thickness and retain viscosity when heated.
Why are there beets in the Pink Primavera sauce? Beets provide the characteristic dark pink color of the sauce and contribute flavor and texture.
Why are the beets not organic?
The beet puree is best sourced as conventional for this application to ensure consistent supply and quality. Beets are not among the dirty dozen produce items with significant pesticide concerns, and these beets are Non-GMO, which takes care of the major reasons for going organic.
Paleo Certification: So what does 'Certified Paleo' mean, exactly? For a product to proudly wear the Paleo certification label, it means it's grain-free, legume-free, dairy-free, and made without artificial coloring, sweeteners, flavors, or preservatives. Long story short, our ingredient list is so clean you could, well... eat it!
---